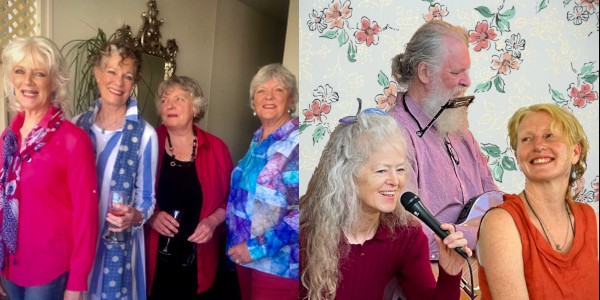 Our Closing Soiree
The Soiree's have been well patronised in past festivals. This festival the Soiree's producer, Ian Main wanted to do things a little differently. In consultation with the festival organisers he has put together a wonderful evening of food and music. This event will showcase the world class local talent we have on our side of the Fleurieu.
The ever-popular Russell Sisters namely Jenny, Susan, Elizabeth and Margie, share their music and songs from several genres, including rock, folk, R & B, gospel and country. Seeing these four women, hearing them harmonise, and feeling the joy of their onstage presence is uplifting and entertaining. Being with them at the festival finale will be a wonderful way to celebrate the closing of this great festival. They will be accompanied by John Mulholland who injects quality guitar sounds to this feel-good act.

The Cape Jervis Trio (Anne Toner, Gillian Hunter and David Corkill) are performing a collection of original and classic songs which invoke growing up in an era of the 1940s and 1950s. Inspired by the lino cuts and literary works of South Australian icon Barbara Hanrahan and her book Scent of Eucalyptus, they weave a nostalgic and evocative story through song, spoken word and visual cues. The Trio's gentle style immerses the audience into a time when our lives felt more connected to nature and our loved ones.
We snuck a phone into the Cape Jervois Trio's last rehearsal and here's a taste, An original piece by Anne Toner written for the Cape Jervois Trio.Clickety Clack
Food and drink available for purchase.
Booking essential.
To book your options are:
DROP IN to the Fleurieu Coast Visitor Centre at 163 Main South Road, Yankalilla
or EMAIL cooee@visitfleurieucoast.com.au
or PHONE 08 8558 0240
or ONLINE .
The Showgrounds will be available for free camping on the night (power $5) for attendees. So dust off your mobile homes and make Yankalilla your destination. The grounds will be open from 10am so you can set up your site and spend the day checking out the rest of the festival.
Music and Performance
When
Sunday 30 April
6:00pm–9:00pm
Where
Yankalilla Showgrounds Hall
Cost
Adult $25 / Festival Fleurieu Friend $20 for 1 show
Adult $40 / Festival Fleurieu Friend $35 for 2 shows
SHARE THIS EVENT
Male and female toilet or unisex toilet with accessibility features
Accessibility features available