Patrons
The Board of Festival Fleurieu has a Festival Fleurieu Patrons Program to encourage support for the continuing development and success of the Fleurieu Coast's signature arts, environment, history and culinary events. Over time, the Patrons Program will evolve as a rollcall of people whose passion for the region's creative arts community Festival is matched by their generosity and support of a sustainable festival.
Our patrons are:
Alison Fort: In recognition of her design prowess, and her passion and commitment, professionalism, patience and soulful engagement with the people who are the fabric of the Festival community.
Peter Combe: Acclaimed Australian children's singer/songwriter, entertainer and musician.
Alison Fort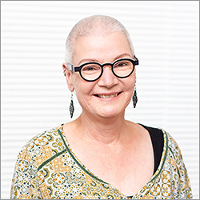 Alison Fort is a designer and artist with a heart for community and the arts. Throughout a professional career spanning almost four decades, Alison has worked with local and international brands and businesses crafting logos and corporate identities, advertising and all manner of promotions and communications. A constant in Alison's life is pro bono work for worthy causes and organisations who often have a marvellous spirit and strong direction but are in need of visual communications. Alison has helped dozens of community groups, charities and not for profits beautifully express their vision through their corporate image. Alison is a woman deeply connected to the Fleurieu.
"Although I live and work on the fringes of the city I find myself drawn to this place constantly. I feel privileged to have not one but two communities that I am thoroughly immersed in. The people, the food, the art and craft, and the music down here, the warm and welcoming attitude… there's so much to love about the Fleurieu. It's very much a place with its own distinct personality and the more often I come here, the harder it is to go back to the big smoke!"
Peter Combe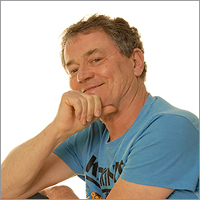 Peter Combe is a passionate and hugely successful performing artist – with 22 releases, including seven gold and two platinum albums, plus three ARIA awards to his credit. He now entertains three generations – today's children, their parents who grew up on his music, and grandparents who bought his CDs and videos for their children in the late 80s and early 90s. He performs at the Adelaide and Perth Fringes each year and in 2018 toured his much loved Christmas Album to seven capital cities.
"Peter Combe is no stranger to our part of the world, having had a holiday home here for some 25 years – and we are thrilled that he loves our region." says Festival Board Chair, Greg Mackie.
In Peter's own words: "Since about 1989 my wife and four children, and more recently grandchildren, have spent much of January holidaying at Carrickalinga, plus, when my schedule allows, assorted weekends during the year. It's the perfect place to unwind, the swimming is unsurpassed, the people warm and friendly and the Fleurieu Peninsula beautiful. It's one of South Australia's jewels in the crown. It's also been wonderful, over this period of time, to observe the blossoming of the arts scene – both musical and visual. And being a bit of a foodie, there are now many great places to eat. When I go interstate, the patriotic part of me wants to sing the praises of this gorgeous part of South Australia – and the other to keep it as a secret to be discovered! In 2016 I recorded a new song Carrickalinga for my latest album, Live It Up."